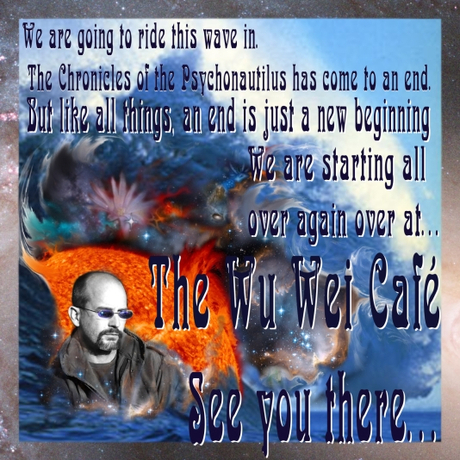 That's right folks.
The Chronicles of the Psychonautilus has come to an end.
But no worries.


We are starting a brand new blog and podcast called:

The Wu Wei Café


In order to organize and to centralize all of my creative work under one banner I invented Wu Wei Productions.
The Wu Wei Café is a blog and podcast and will be the public voice of Wu Wei Productions. To add to this we have the Wu Wei Café Forum and You Tube page.

The Wu Wei Café is simply a very cool place in cyber space to chill and hang out, while listening to intriguing and consciousness expanding conversations or reading a mind altering psychonautic blog.


Soon The Chronicles of the Psychonautilus will no longer be able to be found here. I will leave some of the files here for a while longer but eventually everything is moving.

Chronicles of the Psychonautilus archives can now be found at the
Internet Archive:

Simply type "Chronicles of the Psychonautilus" into the search engine at the Internet Archive and you can find all the shows I've uploaded there free for downloading. Everything there is placed under a Creative Commons Attribution-ShareAlike 3.0 Unported License . That means that anyone can:
Share — to copy, distribute and transmit the work
Remix — to adapt the work

Under the following conditions:
• Attribution — You must attribute the work in the manner specified by the author or licensor (but not in any way that suggests that they endorse you or your use of the work).
• Share Alike — If you alter, transform, or build upon this work, you may distribute the resulting work only under the same or similar license to this one.

I hope that you'll join me there and that you find the Wu Wei an enjoyable place to visit.
See you there.

Thanks to everyone who helped make this such a cool show,

Adam
http://wuweicafe.blogspot.com/

http://wupodcast.podbean.com/

http://wuweiproductions.motionsforum.com/

http://www.youtube.com/user/WuWeiProductionz